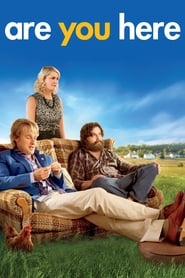 Are You Here
When Steve Dallas, a womanizing local weatherman, hears that his off-the-grid best friend Ben Baker has lost his estranged father, the two return to Ben's childhood home. Once there, they discover Ben has inherited the family fortune, and the ill-equipped duo must battle Ben's formidable sister and deal with his father's gorgeous 25-year old widow.
Movie: Are You Here
Rated: R
Genre: Comedy
Director: Matthew Weiner
Actors: Amy Poehler, Jason Davis, Jenna Fischer, Laura Ramsey, Lauren Lapkus, Owen Wilson, Zach Galifianakis
Tagline: Friendship... there's nothing in it for anybody.
Views: 146