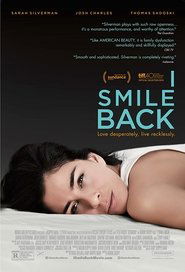 I Smile Back
Laney is an attractive, intelligent suburban wife and devoted mother of two adorable children. She has the perfect husband who plays basketball with the kids in the driveway, a pristine house, and a shiny SUV for carting the children to their next activity. However, just beneath the façade lie depression and disillusionment that send her careening into a secret world of reckless compulsion. Only very real danger will force her to face the painful root of her destructiveness and its crumbling effect on those she loves.
Movie: I Smile Back
Rated: R
Genre: Drama
Director: Adam Salky
Actors: Chris Sarandon, Josh Charles, Mia Barron, Sarah Silverman, Skylar Gaertner, Terry Kinney, Thomas Sadoski
Tagline: Love desperately, live recklessly.
Views: 149