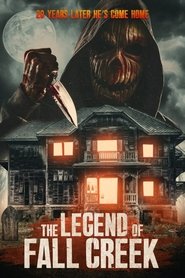 Legend of Fall Creek
On a chilly Halloween night in 1988, Fall Creek Valley turned upside down when Robert "Bobby" Maxwell disappeared from a party. On the 20 Year Anniversary, BLOODY BOBBY seeks revenge on his tormentors who sealed his fate with a blood pact.
Movie: Legend of Fall Creek
Rated: N/A
Director: Anthony Hall, Ryan McGonagle(co-director)
Actors: Alton Clemente, Chuck Clendenin, Frank Brantley
Tagline: Halloween is about to get...Bloody!
Views: 199