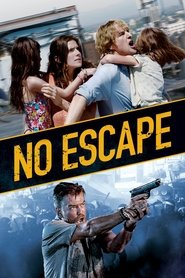 No Escape
In their new overseas home, an American family soon finds themselves caught in the middle of a coup, and they frantically look for a safe escape in an environment where foreigners are being immediately executed.
Movie: No Escape
Rated: R
Director: John Erick Dowdle
Actors: Claire Geare, Lake Bell, Owen Wilson, Pierce Brosnan, Spencer Garrett, Sterling Jerins, Tanapol Chuksrida
Tagline: No rescue. No refuge.
Views: 205