0
(No Ratings Yet)
Loading...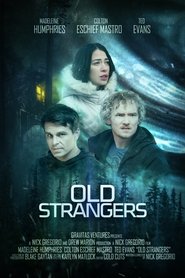 Old Strangers
Three friends reconnect in a secluded mountain town after a long quarantine. While out for a hike, the trio stumble upon something dark and terrible in the deep woods.
Movie: Old Strangers
Rated: Not Rated
Genre: Science Fiction
Director: Nick Gregorio
Actors: Andy Riesmeyer, Colton Eschief Mastro, Madeleine Humphries, Nick Gregorio, Ted Evans
Views: 6
Date of Release: 2022-01-11
Country: United States
Duration: 62 min
Year of Release: 2022
Parts Per Billion
Parts Per Billion
The interwoven stories of three couples which are forced to make life-altering decisions in the face of a disastrous war. Inspired and sometimes blinded by their love, Len, Mia, Andy,…
Ben 10 Versus the Universe: The Movie
Ben 10 Versus the Universe: The Movie
A blast from Ben's past returning to do double the damage on Team Tennyson and planet Earth itself, forcing Ben to go interstellar to save the day.
Age of Tomorrow
Age of Tomorrow
Mankind must fight to survive as Earth is invaded by hostile UFOs bent on destroying the planet. As the epic battle wages on, astronauts sneak aboard the mothership where they…
Lava
Lava
Deborah makes a living by drawing the skin of her clients. One night, her housemate invites her boyfriend and friend to their house. Sitting in the armchair, they consume the…
Glass
Glass
In a series of escalating encounters, former security guard David Dunn uses his supernatural abilities to track Kevin Wendell Crumb, a disturbed man who has twenty-four personalities. Meanwhile, the shadowy…
Victor Frankenstein
Victor Frankenstein
Eccentric scientist Victor Von Frankenstein creates a grotesque creature in an unorthodox scientific experiment.
Upside Down
Upside Down
In an alternate universe where twinned worlds have opposite gravities, a young man battles interplanetary prejudice and the laws of physics in his quest to reunite with the long-lost girl…
Young Ones
Young Ones
In a future where water is scarce, a farmer defends his land and hopes to rejuvenate his parched soil. However, his daughter's boyfriend schemes to steal the land for himself.
Star Wars: The Force Awakens
Star Wars: The Force Awakens
Thirty years after defeating the Galactic Empire, Han Solo and his allies face a new threat from the evil Kylo Ren and his army of Stormtroopers.
Intersect
Intersect
A group of young Miskatonic University scientists invent a time machine, only to learn that they are being manipulated by mysterious, unseen forces from another dimension.
Avengers: Age of Ultron
Avengers: Age of Ultron
When Tony Stark tries to jumpstart a dormant peacekeeping program, things go awry and Earth's Mightiest Heroes are put to the ultimate test as the fate of the planet hangs…
Ejecta
Ejecta
Two men witness an unexplainable event in the sky as a historic solar storm approaches, and they try to survive as a terrifying life form hunts them.