0
(No Ratings Yet)
Loading...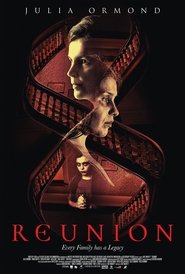 Reunion
A pregnant woman returns to her recently-deceased grandparents' old family home to spend time with her estranged mother. What begins as a tenuous reunion slowly turns terrifying.
Movie: Reunion
Rated: Not Rated
Genre: Horror
Director: Jake Mahaffy
Actors: Cohen Holloway, Emma Draper, John Bach, Julia Ormond, Nancy Brunning
Tagline: Every Family has a Legacy.
Views: 210
Date of Release: 2020-11-05
Country: New Zealand
Duration: 95 min
Year of Release: 2020
Death Files
Bullets of Justice
Bullets of Justice
During World War III, the American government initiates a secret project codenamed 'Army Bacon' in order to create super soldiers by inbreeding humans with pigs. 25 years later the hybrid…
The Last Laugh
Vibration
Vibration
In an effort to communicate with her dead mother, 16-year old Alexis accidentally summons a demon who tries to steal her soul. Does she have what it takes to send…
Nothing But the Blood
House of Shadows
House of Shadows
A young woman visits the mysterious property she has inherited. While hoping to learn more about the deaths of her mother and sister, she is haunted by ghosts and so…
Relic
The Amityville Harvest
The Amityville Harvest
While staying at an aging manor to research its liquor-smuggling history, Christina and her documentary video team interview their spooky host Vincent—but no one can capture his image or voice…
Revenge Ride
Depraved
Depraved
A field surgeon who suffers from PTSD after combat in the Middle East, and creates a living human out of body parts in his Gowanus, Brooklyn lab.
Fear PHarm
Fear PHarm
Four people enter a corn maze for Halloween and are picked off one by one by the twisted family who own the scare attraction.
Antebellum
Antebellum
Successful author Veronica finds herself trapped in a horrifying reality and must uncover the mind-bending mystery before it's too late.