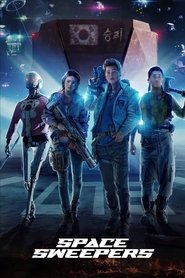 Space Sweepers
In the year 2092, space is full of dangerous floating garbage like discarded satellites and deserted spaceships. The crew of a space junk collector ship called The Victory discovers a humanoid robot that's known to be a weapon of mass destruction. They get involved in a risky business deal and travel through space looking for garbage they can make money off of while also competing with rival junk collectors.
Movie: Space Sweepers
Rated: N/A
Genre: Drama, Fantasy, Science Fiction
Director: Sung-hee Jo
Actors: Jin Sun-kyu, Kim Mu-yeol, Kim Tae-ri, Park Ye-rin, Richard Armitage, Song Joong-ki, Yoo Hae-jin
Tagline: 2092, the space sweep begins!
Views: 280
Date of Release: 2021-02-05
Country: South Korea
Duration: 136 min
Year of Release: 2021