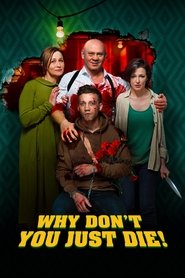 Why Don't You Just Die!
Andrey, a detective and the world's most horrible father, brings together a terrible group of people in his apartment: his resentful actress daughter, an angry thug, and a cheated cop. Each one of them has a reason to want revenge..
Movie: Why Don't You Just Die!
Rated: Not Rated
Genre: Action, Comedy, Crime, Thriller
Director: Kirill Sokolov
Actors: Aleksandr Kuznetsov, Alexandr Domogarov Jr., Artem Bashenin, Igor Grabuzov, Mikhail Gorevoy, Vitaliy Khaev, Vladimir Afanasyev
Tagline: Meeting The Parents Doesn't Go Smoothly...
Views: 132